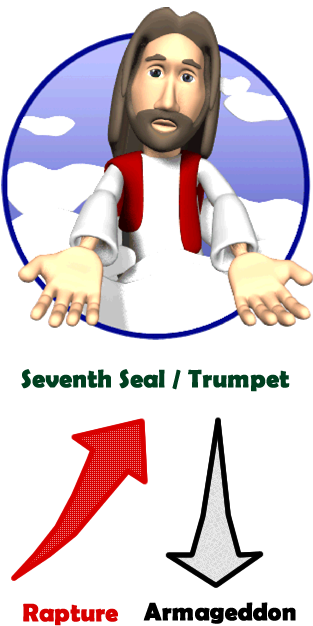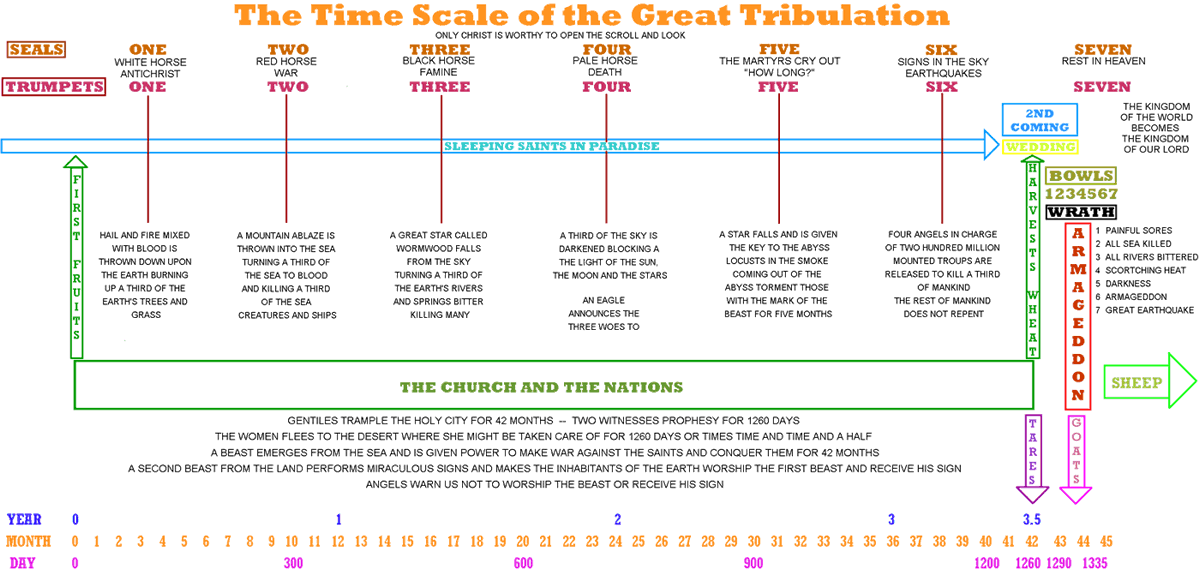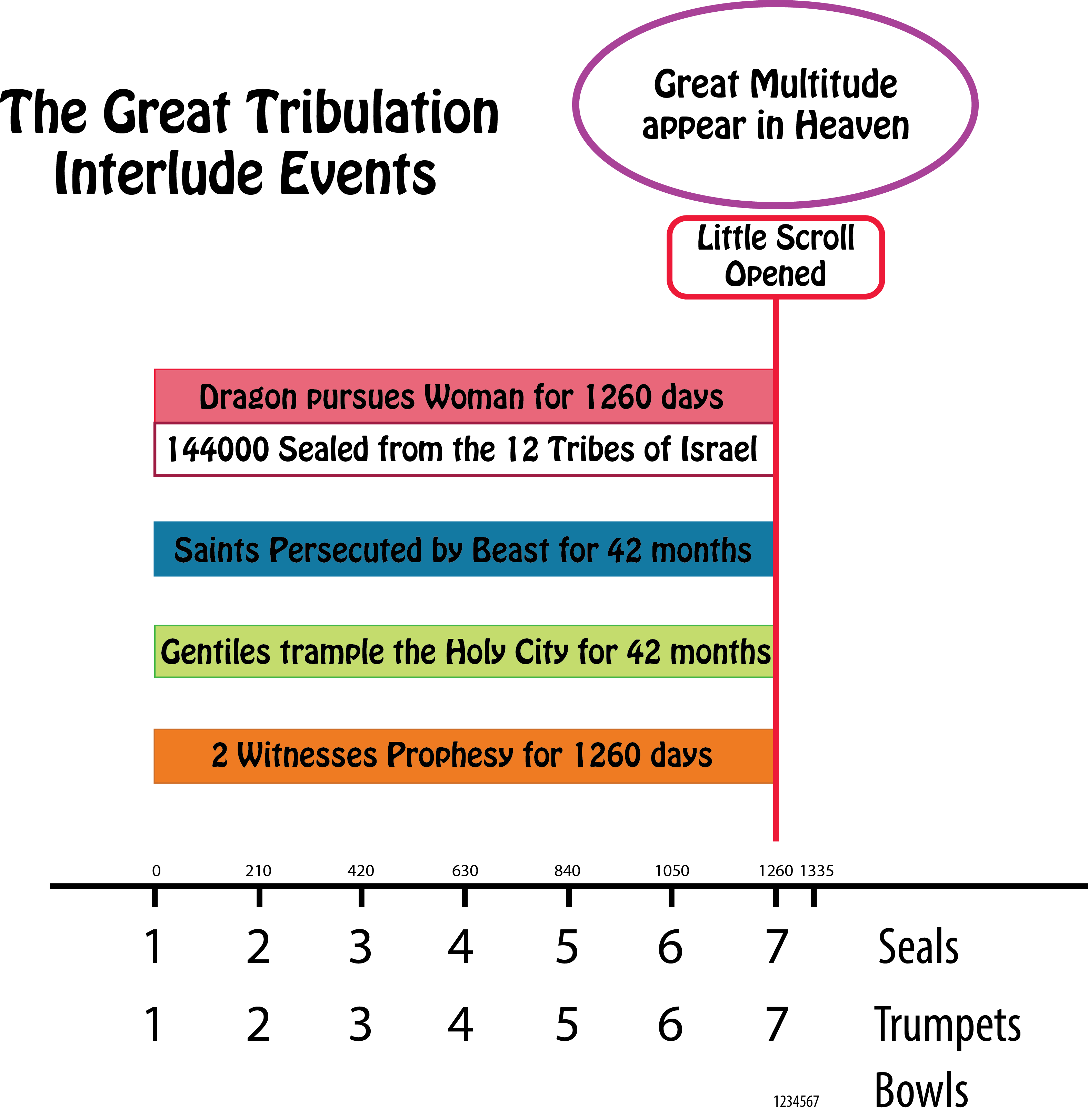 An Analogy
Have you ever given your children a "one, two, three count" when they are being naughty?   Sometimes parents may even count to ten and if the children do not stop their bad behavior by the time they get to "ten" then there are consequences.
When a Boxing Referee counts to three, if the boxer who is down does not get up by the third count then the match is over.
It is a bit like that with God.  Only God counts to seven (opening a seal and sounding a trumpet each time) and just to make it absolutely clear, God calls the last three Trumpets, Woes  (one, two and three).  [Revelation 8:13]
Even after the sixth trumpet / second woe, mankind has a chance to repent! [Revelation 9:20-21]
When God starts counting, mankind should take heed because if  he doesn't, it will be "Game Over".  [Revelation 11:15]
Throughout history, God has had to start counting, but fortunately, mankind came to his senses and repented of his evil.
Maybe God is able to stop counting if God's people ask Him or if enough people repent.
Maybe these wars and famines in history are just a foreshadow of things to come.
Maybe when God starts counting, He knows that mankind will not repent and that it is time for Christ to come.
There are many "antichrists" (with a little 'a') that have come throughout history (eg Hitler and Nero) and many tribulations, but there is an 'Antichrist' and a 'Great Tribulation' that is still to come and is worse than any 'tribulations' that have occurred previously in history;  'The Antichrist' and 'The Great Tribulation'
During the Great Tribulation, the Antichrist will torment God's People for 1260 days and will seem to prevail over them.  Mankind (except for those who are watchful) will ignore God's counting and the signs that accompany each count.  Those who refuse to worship the beast and refuse to accept the mark of the beast are killed.
Unfortunately, in the final (Great) Tribulation, mankind does not repent even when a third of mankind dies during the second woe (6th trumpet).
God opens the seventh seal and the angel sounds the seventh trumpet.
It is game over. It is time for Christ to return for His Bride.
The scroll is opened and those whose names are in it are called up to be with Christ in the Clouds and the False Christians are sent to Hell. (This is why the scroll is sweet and sour when tasted)
The dead in Christ are resurrected and the living believers are called up to meet Christ in the clouds.
During the Great Tribulation, Mankind ignores God's warnings and God reaches Seven.  
It is Game Over for God and for all Mankind.  
A New Order will be established.  
Those who persecuted God's people will go to Hades.
Those who were kind to God's people will be spared the second death but will never be part of the Bride of Christ, the New Jerusalem and will not eat of the fruit of the Tree of Life.  
God's people (the wheat)  will reign with him in Heaven for 1000 years over a select 144000 Jews and about 1.5 million pagans who survive Armageddon and were kind to God's People.
False Christians, the weeds (tares) in the church, will go to Hell
At the end of the Millennium, God makes all things New.
The Bride of Christ (the New Jerusalem) descends from Heaven. Old and New Testament believers will be combined into one New Jerusalem.
There is another Judgment for Pagans.
The dead outside of Christ are raised for judgment at the Great White Throne.
If their names are not in the Lamb's book of Life, they will goe to Hell
Some pagans are spared the second death and are allowed to live as the Nations in Eternity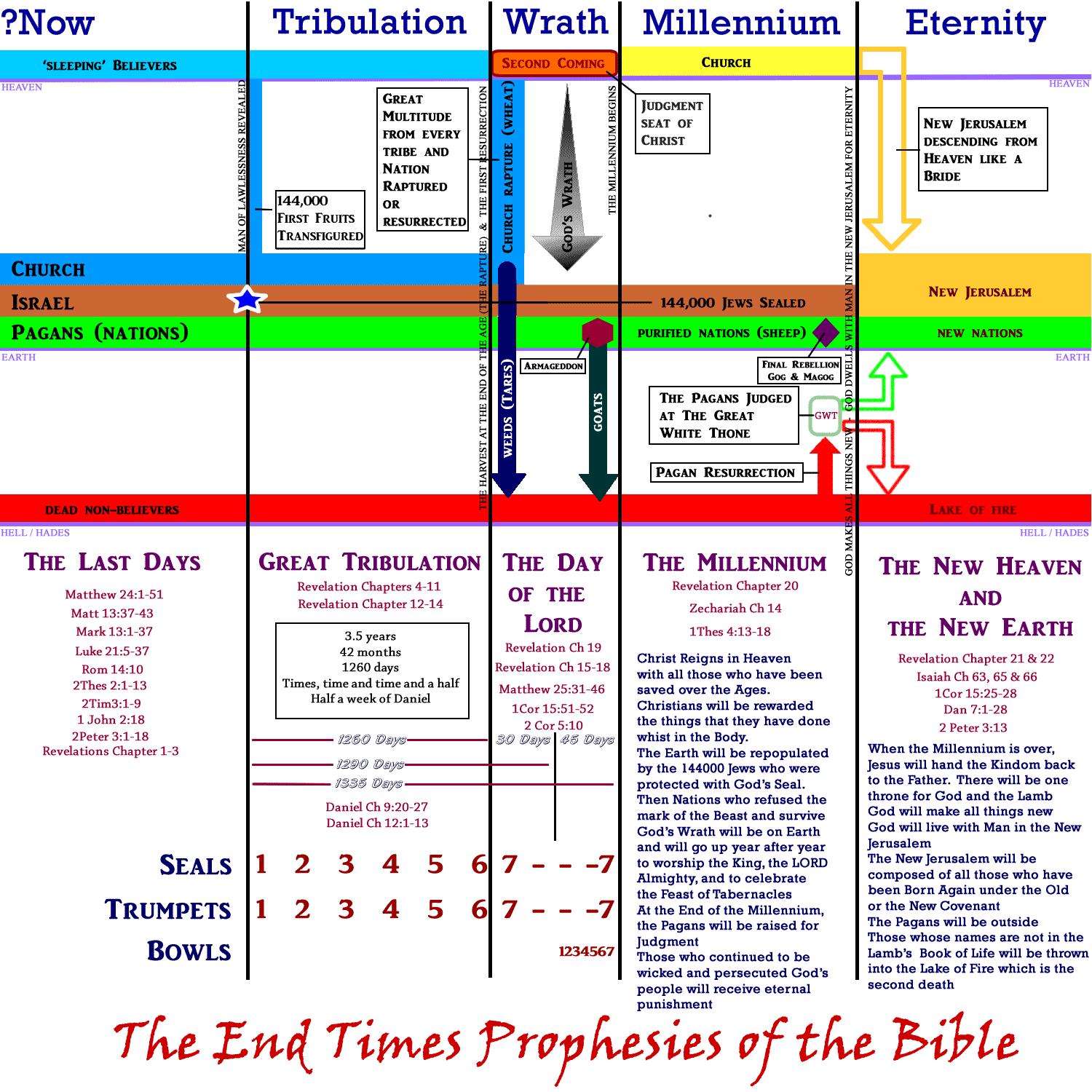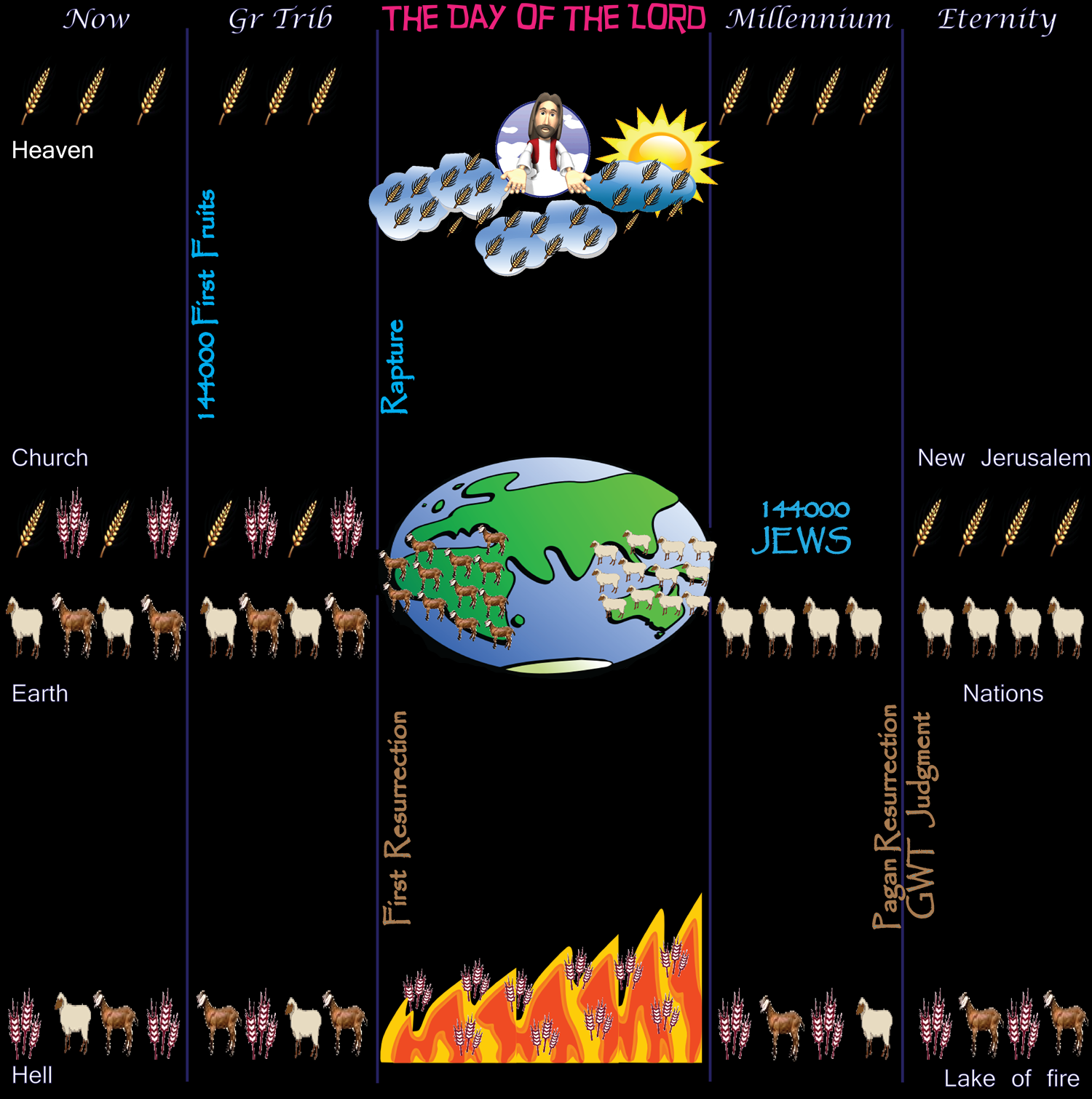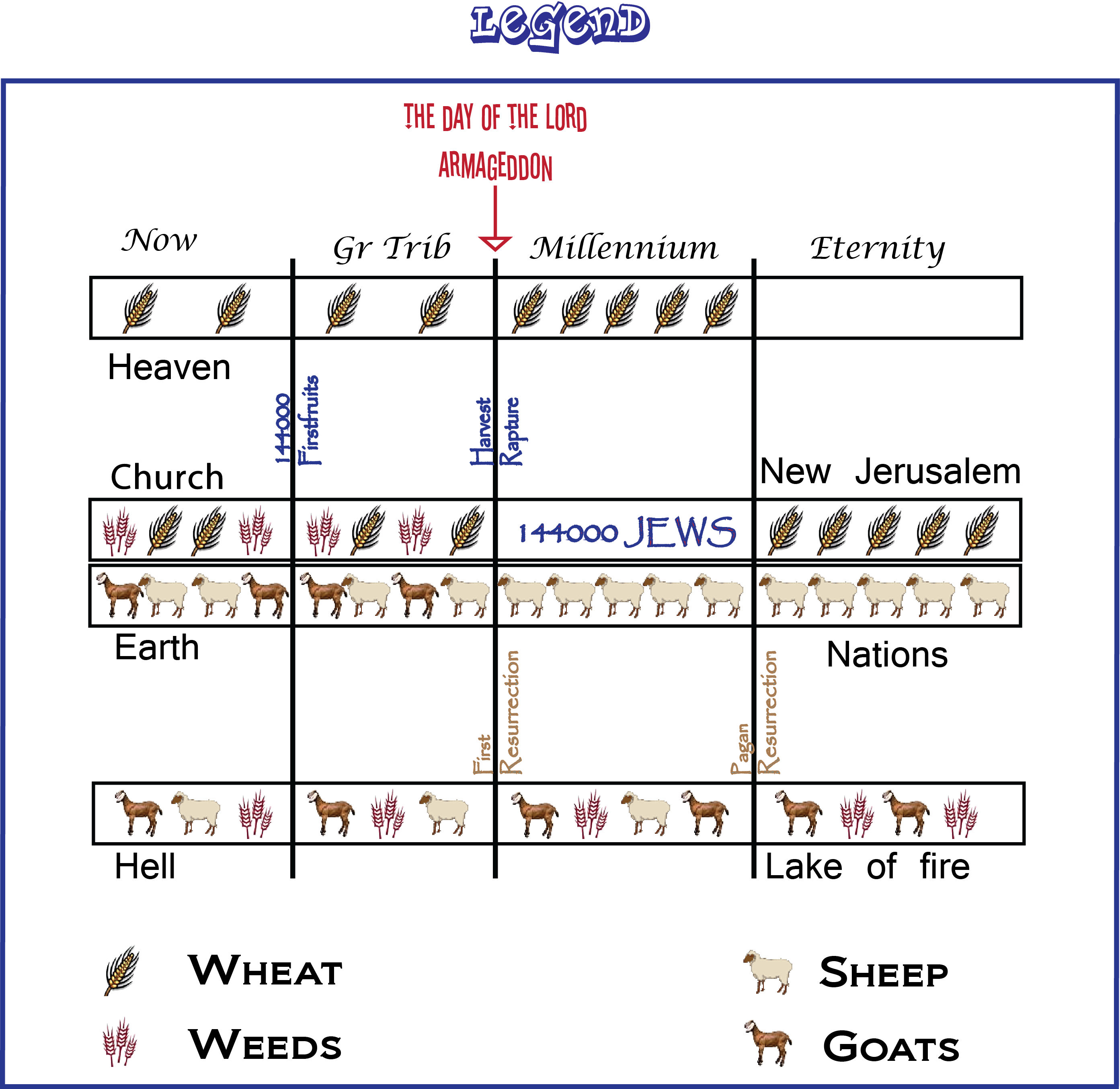 see Seventh Trumpet